Product Description
The Melco D100 embeds the most recent generation of Japanese optical drive which reads CDs and other Optical Discs with great precision.
MELCO circuit board is optimised from an audiophile point of view to promise the highest quality transport and ripping of CDs into the N1.
It  can be turned off independently with the dedicated power switch.
The case is designed the same concept as most recent MELCO music library products.
2 mm thick under-chassis supports the whole case with great rigidity.
Beautifully designed thick aluminum case is half the size of the Melco N1A and fits most desktop USB-DACs.
3.5kg (almost 3x that of similar IT drives)
MELCO D100 Highly Stable Storage System holds the whole drive mechanism with dedicated technology.
Dedicated PCB holds capacitors for a more precise power supply and quality clock generator for better signal transmission.
TO HOST USB (type B port) is for N1 or PC to read the disc data.
TO DEVICE USB (type A port) is for USB-DAC playback with N1 USB Local playback function.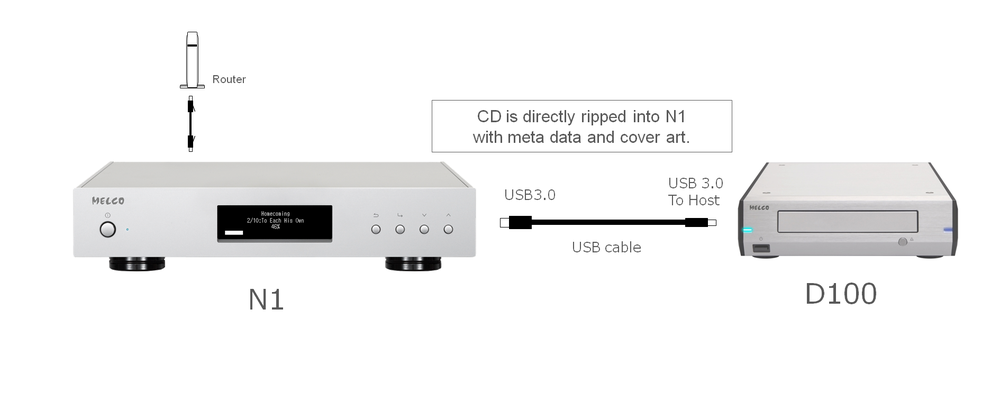 D100
 Model
 D100-B
Color
Silver
 EAN
 4589636030279
 Weight
 3.5 kg (7.7 lb)
 Size ( Wide, Height , Long )
 215 x 61 x 269 mm( 8.46 x 2.40 x 10.59 in )
 Support Optical Disc
 CD ( CD-DA disc read only )DVD / BD ( DVD / BD data disc read only )
 USB ports
 USB 3.0 Type A  x 1 "TO DEVICE",  USB 3.0 Type B x 1 "TO HOST"
 Power supply
 DV 12 v (48W AC adapter)
Compatible Equipment
DELA N1 series、Windows 10 (tested with x86 base、Fall Creaters Update model)
Mac OS (tested with High Seria)※1